15L Tactical Shoulder Bag Military Style Molle Sling Backpack
Price:
$25.65 $27.00 piece
Description
Tactical sling bag comes with free tactical USA flag patch together. It's made of durable 600D polyester, water-resistant and durable.
Tactical sling pack with velcro in the concealed back compartment. Awesome as a pistol sling range bag for 1-2 handguns and lots of ammo or as tactical assault pack.
Sling pack's size: 33 * 26 * 18cm(H*W*D), enough for carrying 14" laptop,iPad, notepad, goggles, book, keys, wallet, cell phone, flashlight, gloves, water bottle, chargers, etc on a daily basis
Tactical sling backpack has an adjustable and comfortable single shoulder strap and also has two smaller straps to help reduce the sway of the bag while moving as small military rover shoulder sling backpack.
Tactical sling pack with double-stitched, Heavy duty zippers and utility-style cord pulls, front load compression system-Y strap. Comfortable breathable padding back area, molle straps as molle tactical sling pack or EDC bag.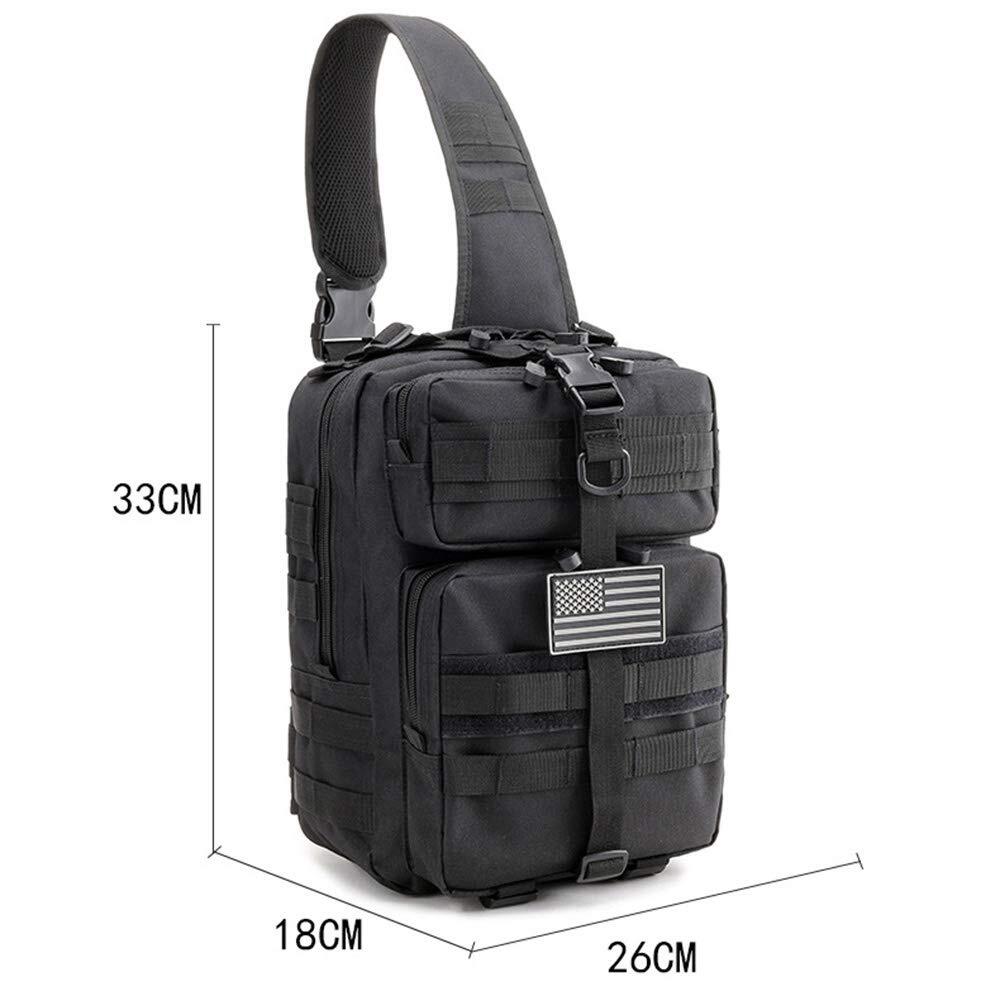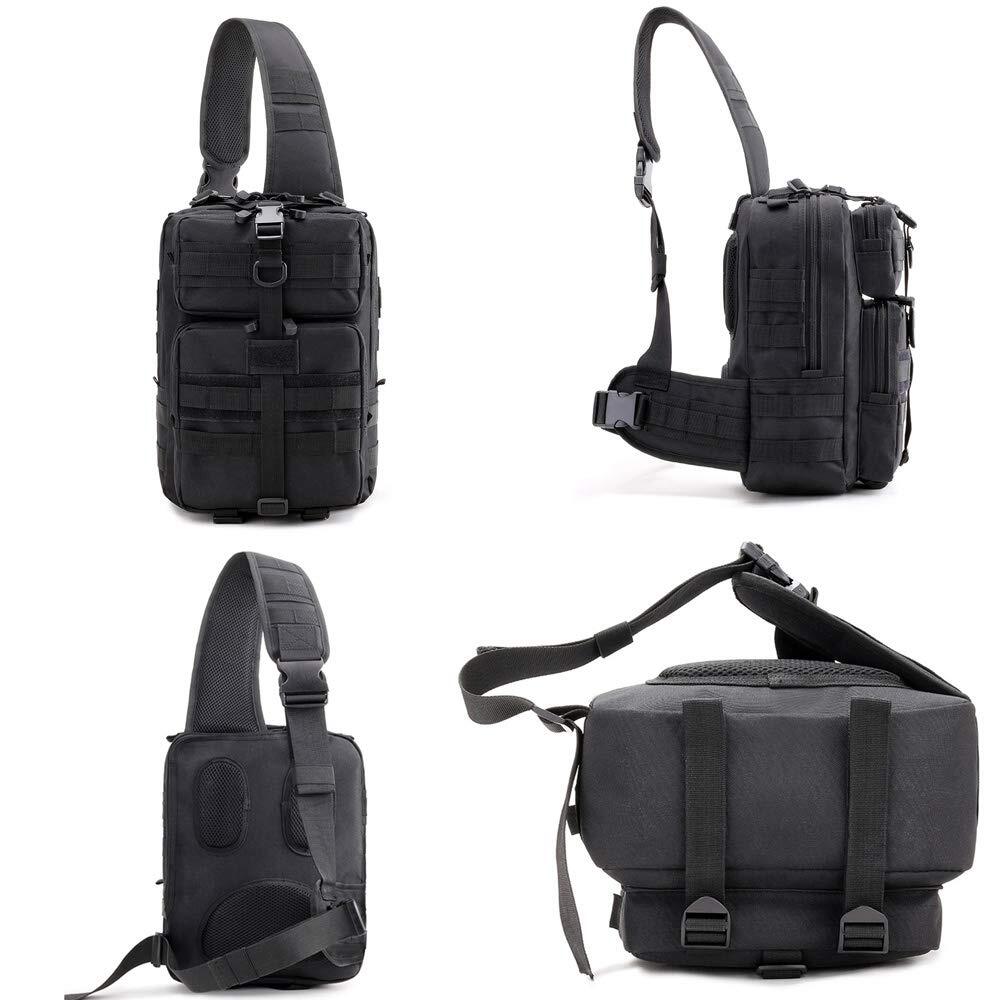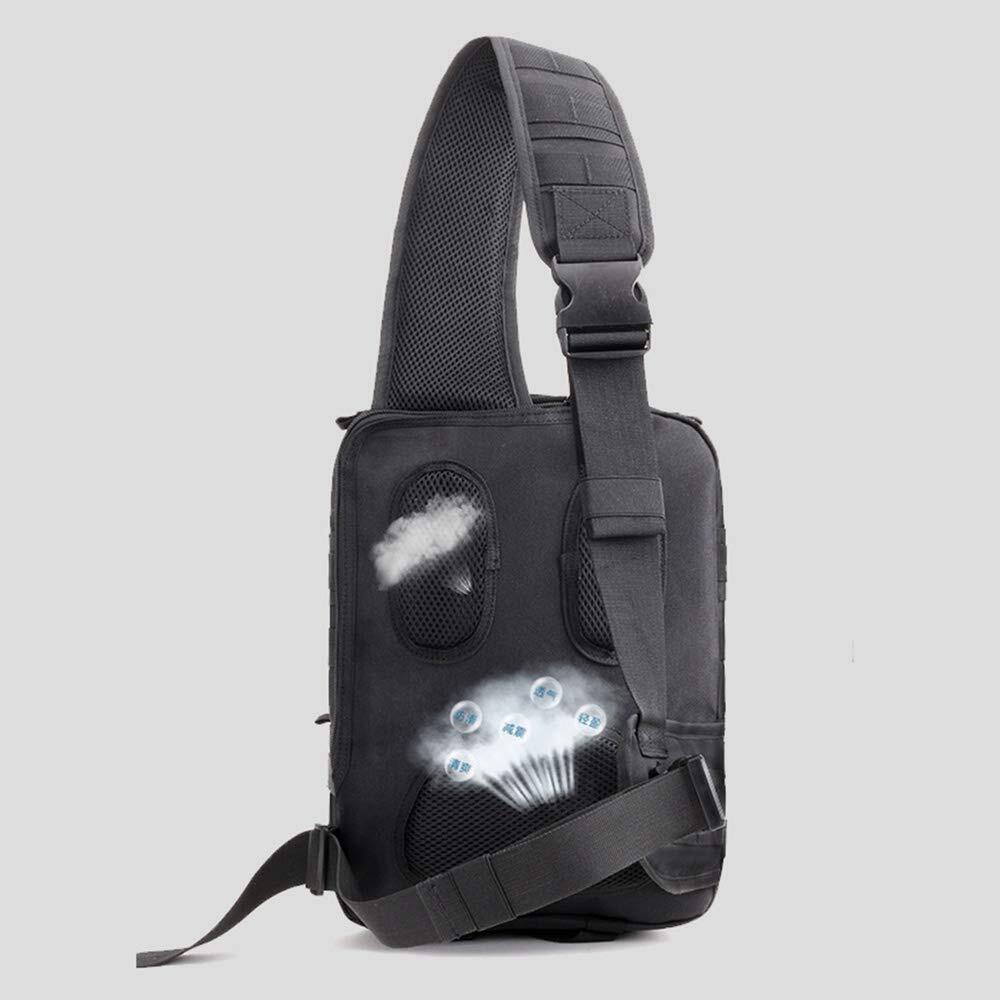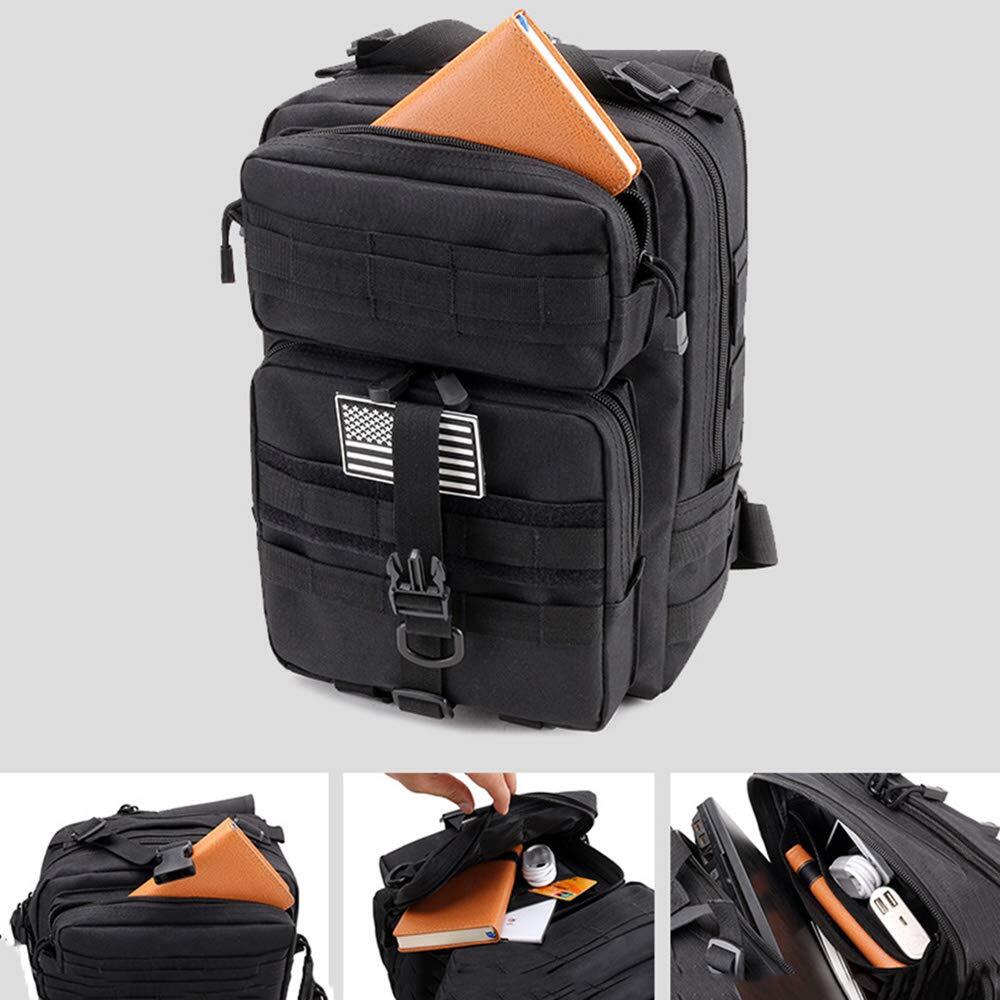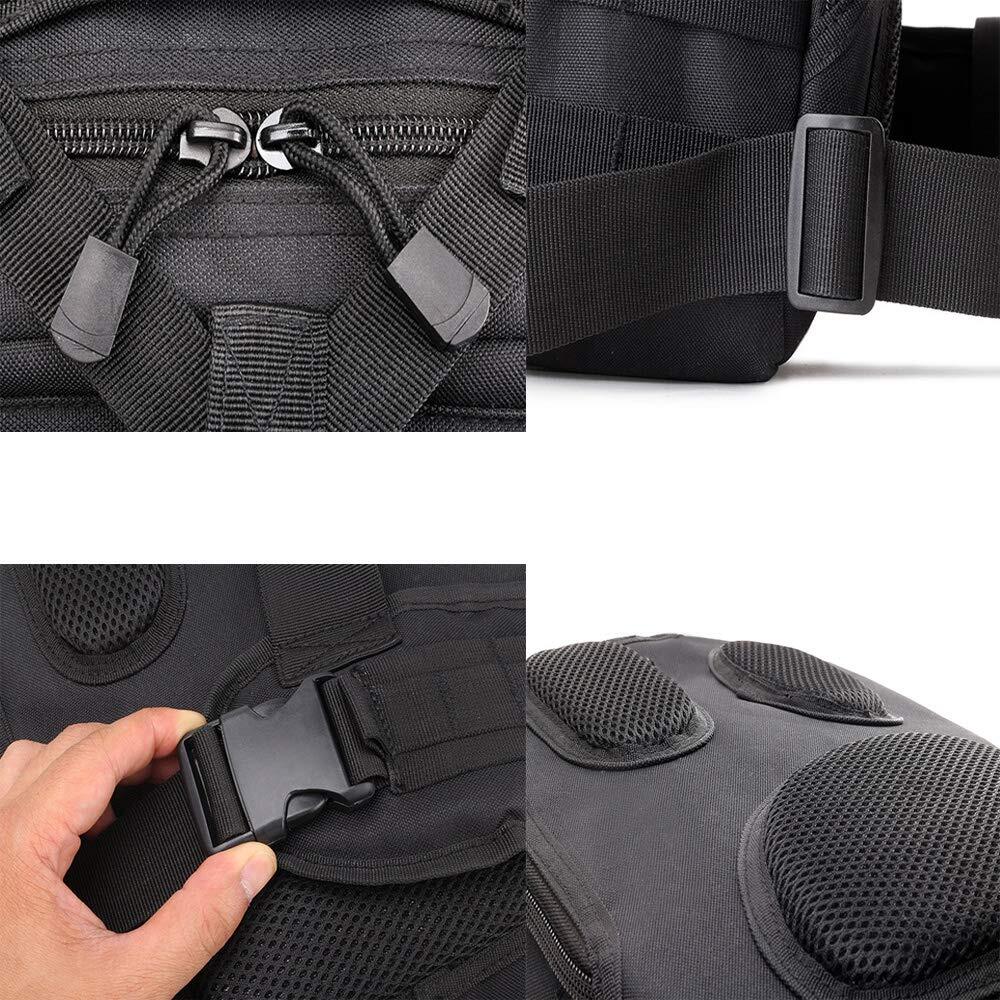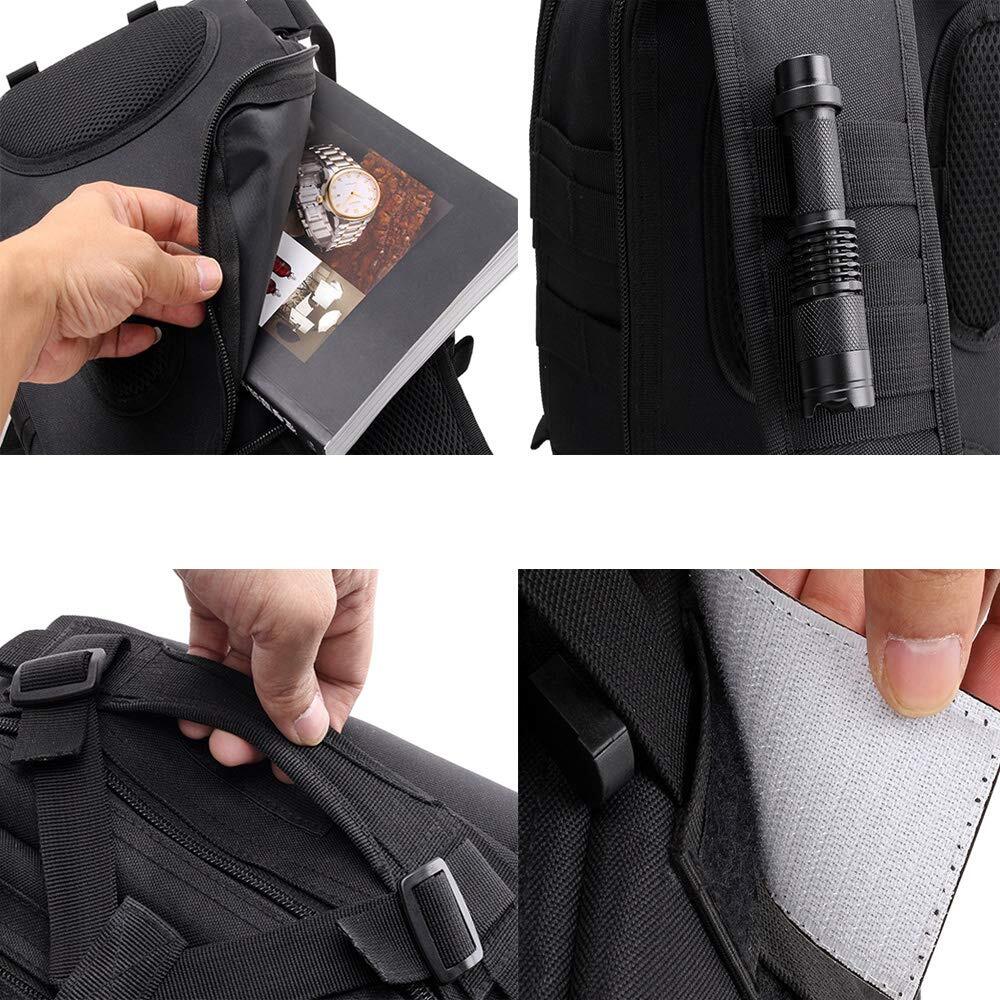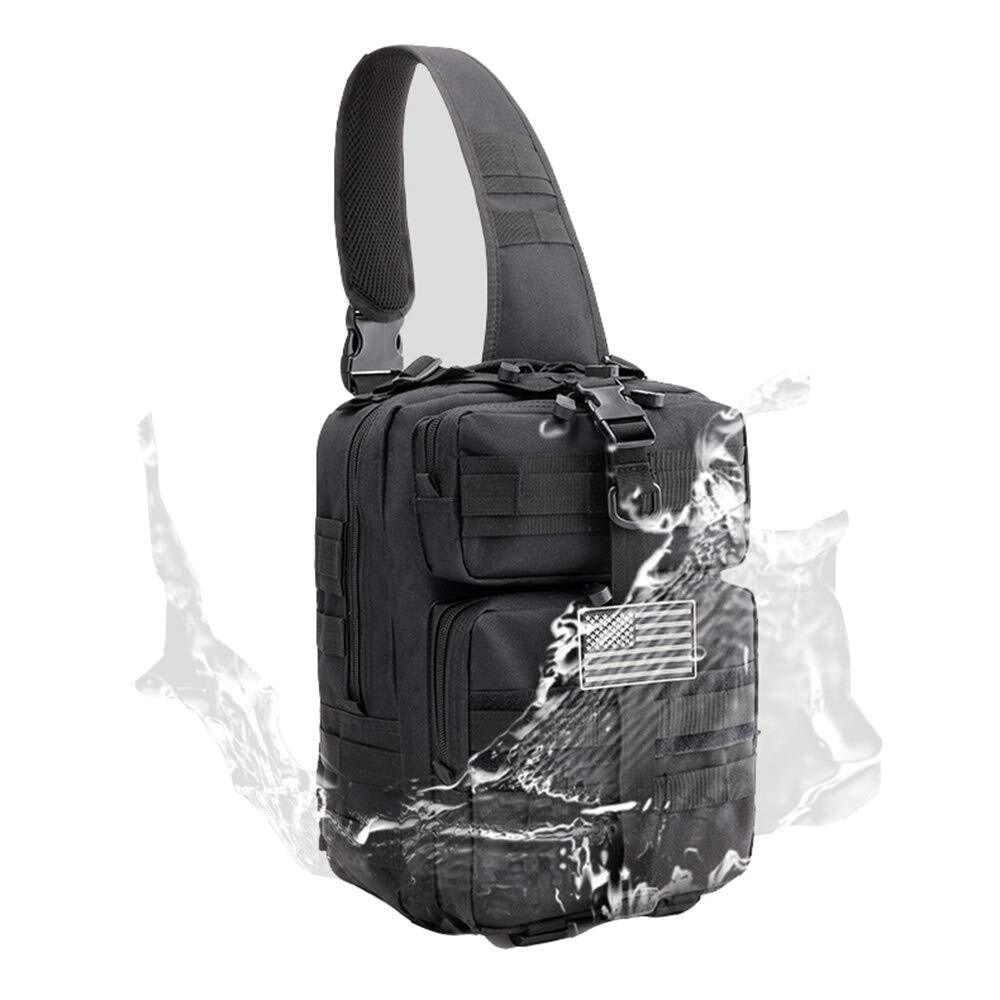 Product: 15L Tactical Shoulder Bag Military Style Molle Sling Backpack
Tag: 15L Tactical Shoulder Bag, Military Style Molle Sling Backpack, Military Molle Shoulder Bag
More You May Like:
Tactical Hydration Backpack with 3L Water Bladder Bag for Hiking Cycling
,
Tactical Backpack Molle Bug Out Bag 3 Day Assault Pack for Camping
,
65L Waterproof Tactical Rucksack Giant Hiking Backpack with Rain Cover
Customer Reviews ( 21 )
ByT. SandovalSaturday, 01 June 2019
Nice size Perfect size for a walk with the dogs and has plenty of storage. The only dislike I had was the patch, but it is removable so problem solved!
ByMelissaFriday, 31 May 2019
Most awesome tactical sling bag ever. This is the best quality tactical sling bag I ever purchased. Perfect for 2 day hike. Looks awesome. Good quality. I purchased it as a gift for my husband. He was very surprised.
ByTabatha HendersonWednesday, 29 May 2019
Excellent bag for small items Amazing bag for the price, it was just a little bit to small for what I was wanting to use it for. I carry a wallet, 2-4 phones for my family, my personal firearm and badge and I had to cram it in this bag it just needed to be a little bit bigger and it would have been perfect for my use.
BySeanThursday, 23 May 2019
Thee best day type bag Thee best day type bag, I have ever had! I have all kinds from 5.11, Proper, etc... Those are expensive, this was not. It is my Murse "man purse"! It is a bad ass wallet/backpack, with everything you need! I buy a alot of crap on Amazon, this was/is one of my gems😎
ByJaluksetichThursday, 23 May 2019
Love my sling tactical bag! Loved the fact that is is compact, can just throw it over my shoulder and go. Got the black one, thinking about ordering green, too. Bag can be used for many things on the go. I use mine for personal items and EDC.
ByErika SWednesday, 08 May 2019
Best Sling Bag!! This is a very sturdy bag and a perfect size to fit necessities. I bought it for a friend who needed it, and I also bought one for myself because I wanted it!
ByLuvlumpsWednesday, 24 April 2019
Good quality This 15l tactical backpack was good quality, exactly what i was looking for except much smaller than expected. Had to give to my niece...still searching for one for me.
ByRTThursday, 07 March 2019
Great bag, needs to be bigger Fancy little bug out bag. Way too small for every day stiff but makes a cool supply and small stuff carrier.
ByJake MonroeWednesday, 13 February 2019
Durable. Easy to use. This is a great sling tactical backpack. Plenty of pockets. Lightweight, but built to be very durable. Not only can I use this for days hikes and camping, it also makes a great dopp kit for general travel as well. Love the velcro pad where the patch is attached as well. Great multi-purpose sling.
ByAjThursday, 24 January 2019
Perfect for now I recieved the bag. Not bad, BUT i have a few issues. I will say I did fit a significant amount of my Medical supplies in it... ive used it for two days, i will give you an update in a month.
ByP. YanovMonday, 14 January 2019
I think it will be fine The shoulder molle bag is lighter weight than I expected, but that might turn out to be a good thing. It'll probably be easier to carry. My concern is that it might not last as long as I'd hoped.
BySonnyMonday, 31 December 2018
Very nice! I really enjoy this tactical sling bag. It is small and manages to hold everything I need to bring to work. And it looks cool. I like the logo patch also. fantastic job on this bag.
ByZ15303Wednesday, 26 December 2018
Great Backpack! Great Ling Bag. Lots of separated pockets for all kinds of gear. Great quality...Great price... Quick shipment. Highly Recommended.
ByShawnFriday, 02 November 2018
Ordered this samll tactical bag for work figured it would be much easier to carry than my purse. Well when i got it i thought WOW this is really small. Well that little bag amazed me I was able to fit everything from my big purse into this little compact bag. Its so easy to carry to work and store away. Very tough little tactical bag. Will be ordering a few more for family members and friends.
ByTrila19Thursday, 25 October 2018
Very good value! Im a 14+ year HVAC tech who was looking for a "mini" tool/diagnostic bag to easily take up on roofs and attics. I ordered two and am very pleased with the build quality so far, looks like it will hold up well for what I'll be using it for. Good quality and a more than fair price.
ByJoshSaturday, 06 October 2018
Would buy again Comes in handy. Plenty of room inside. Was able to put my Kindle e-reader and my fire tablet in and still had room. Molle set up came in handy for a pen and pocket knife. If I can find it in another color, might buy one for hunting as well.
ByPaul stanleySaturday, 08 September 2018
ByDallasSaturday, 01 September 2018
Great customer service with personal touch 3rd edit. The company replaced a defective sling bag after 3/4 of a year. The new bag is slightly different and better than previous version.
ByHolly Thursday, 31 August 2017
Nice backpack but a tad on the small side It seemed to be perfectly made and is a fine backpack but way too small for our needs.
ByGolightlyWednesday, 16 August 2017
Great Gun Range Bag. Carry gun, a few magazines, cell, and a few other supplies. You will not be disappointed. Great to carry side arm, cell, and all the supplies for any running/hiking/nature trails. You will not be disappointed.