40L Waterproof Rucksack Tactical Backpack Military Bag
Price:
$47.50 $50.00 piece
Colour

Black
Jungle Camo
Desert Digital
Jungle Digital
ACU
Khaki
CP
Army Green
Three Sand
Description
600D Oxford nylon, built-in waterproof layer, water-resistance and durability; Can hold laptop up to 15.6"

Two spacious main compartments with zip-up closures, as well as a spacious front zip-up compartment; Soft and comfortable EVA-lining reduces pressure on back

Molle webbing for extra expansion. Multiple webbing straps on the front, sides and even the bottom of the pack means you can build it to take what you need

Heavy duty adjustable padded shoulder straps, waist straps and sternum strap means it will adjust to fit you and relieve pressure while carrying heavy loads

Suitable for outdoor activities, from an intense hiking session to a leisurely camping trip, it's always a good choice for you
Function: Climbing,Camping Hiking Hunting,Cycling ,Fishing
Rain Cover: Yes
Backpacks Type: Softback
Gender: Unisex
Material: 600D
Model Number: A0606
Item: Outdoor Sports Backpack
Color: 9 colors
Size: 51cm*38cm*18cm
Capacity: 40L
Faature: Waterproof, big Capacity
Function: Hiking Backpack , Camping Backpack
Type: Climbing Backpack
Style 1: Tactical Backpack,Military Backpack
Style 2: Outdoor Sports Backpack
Style 3: Outdoor Bag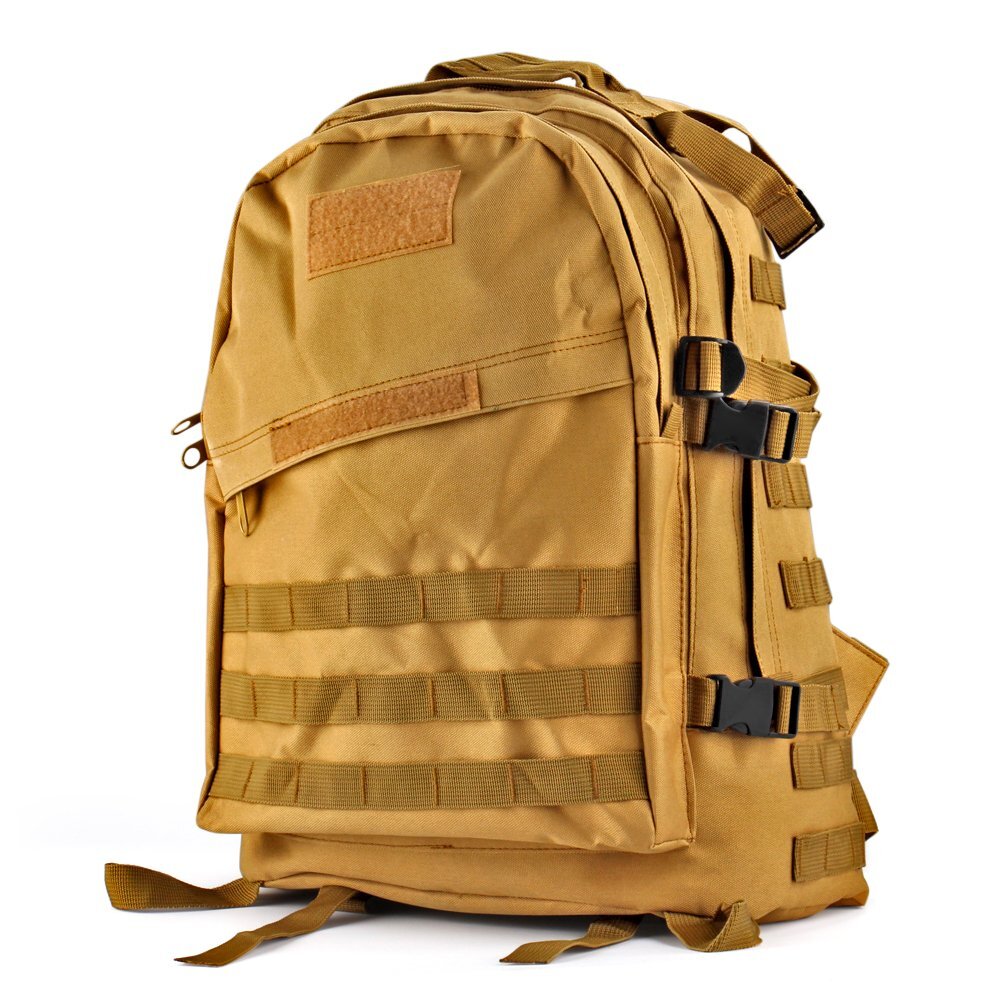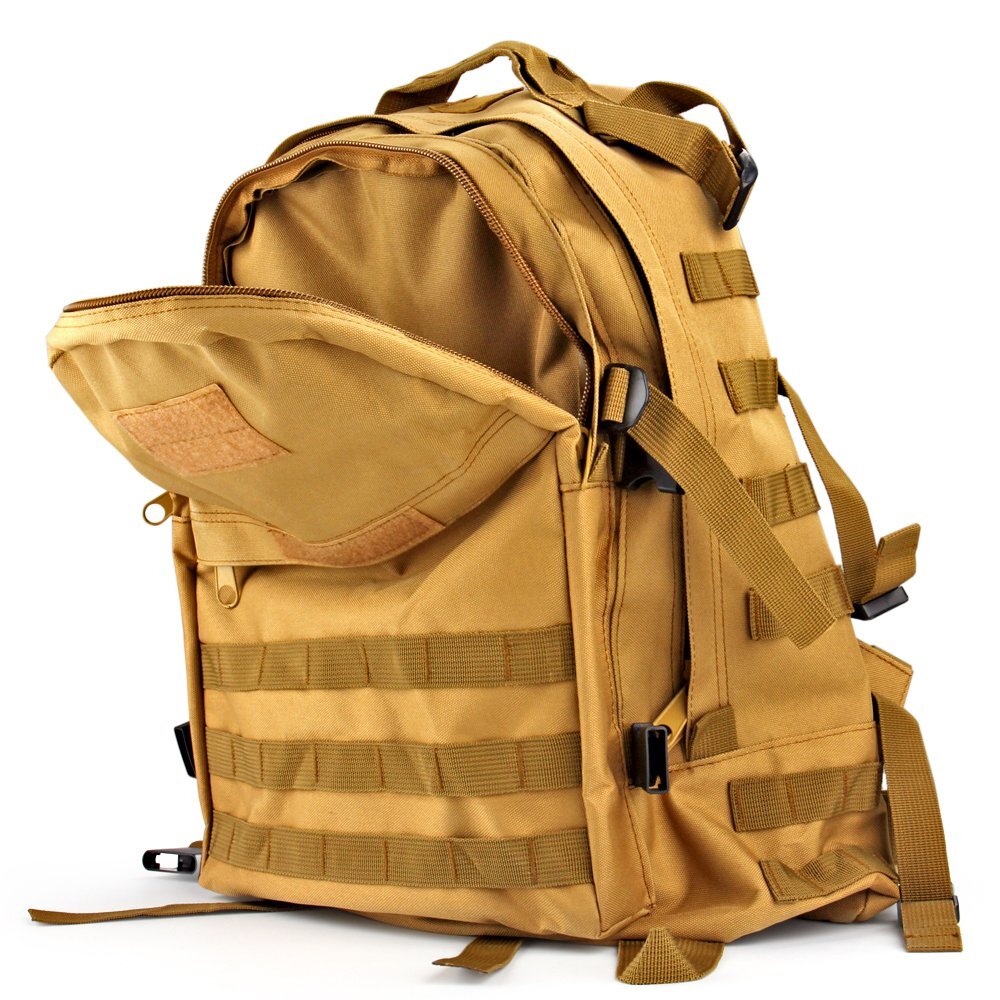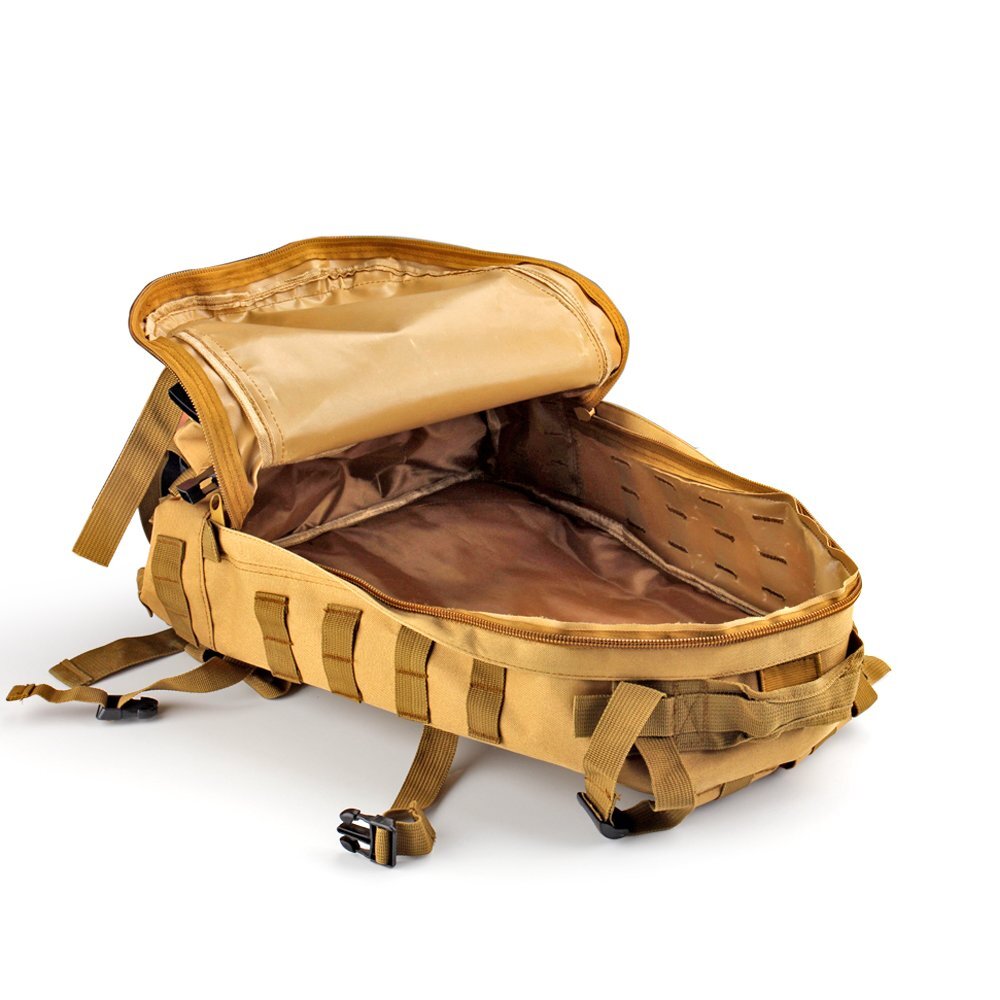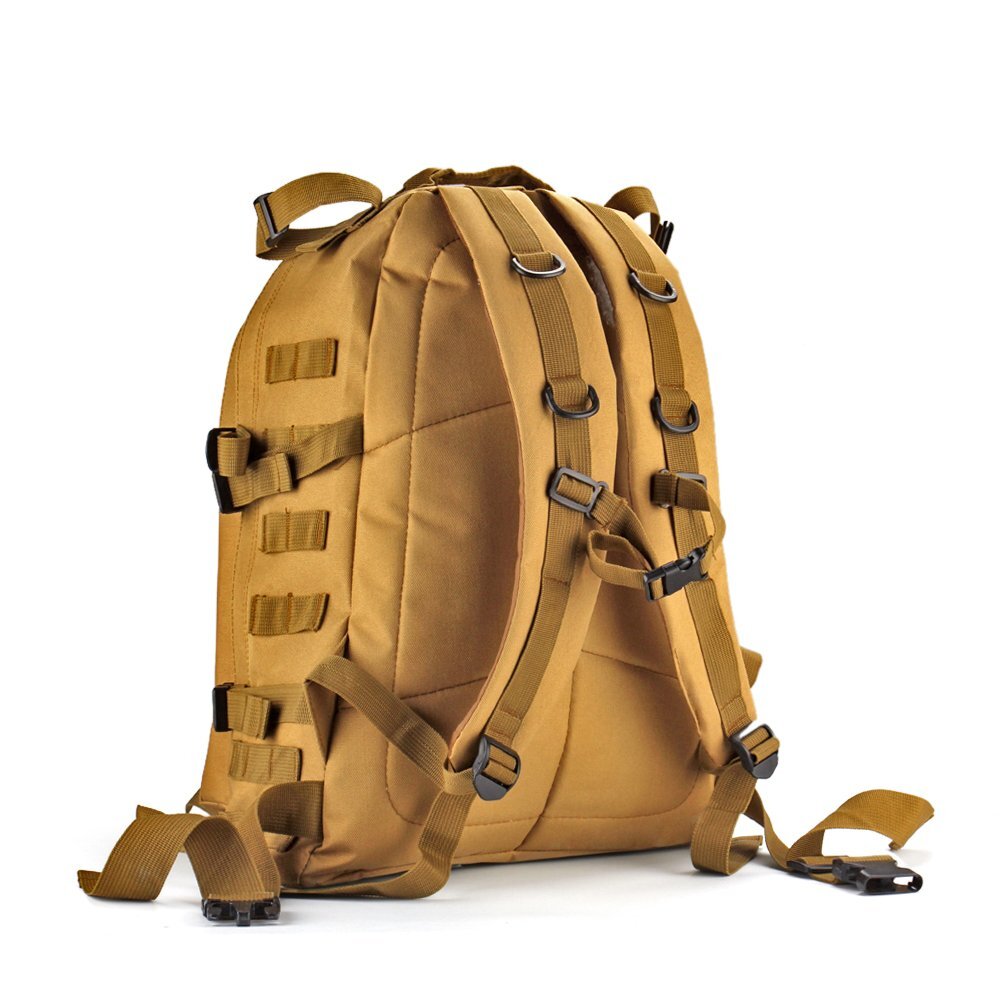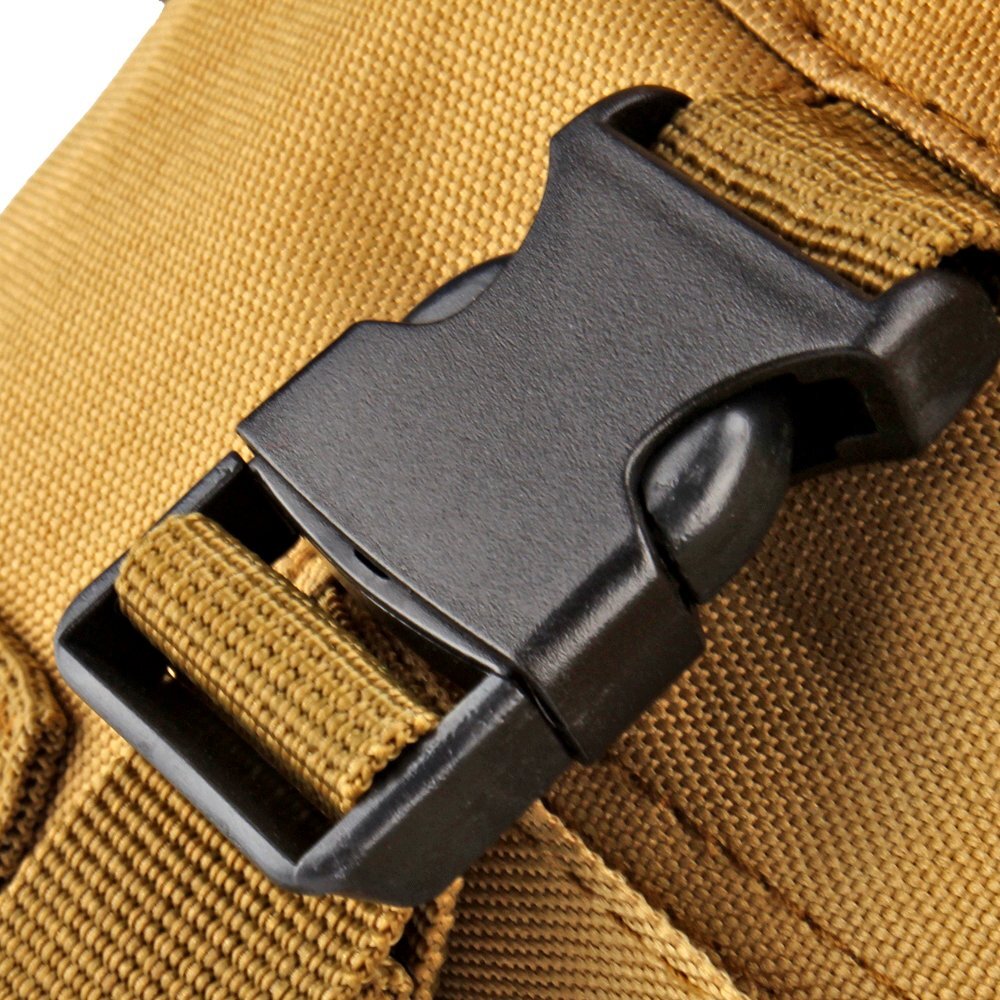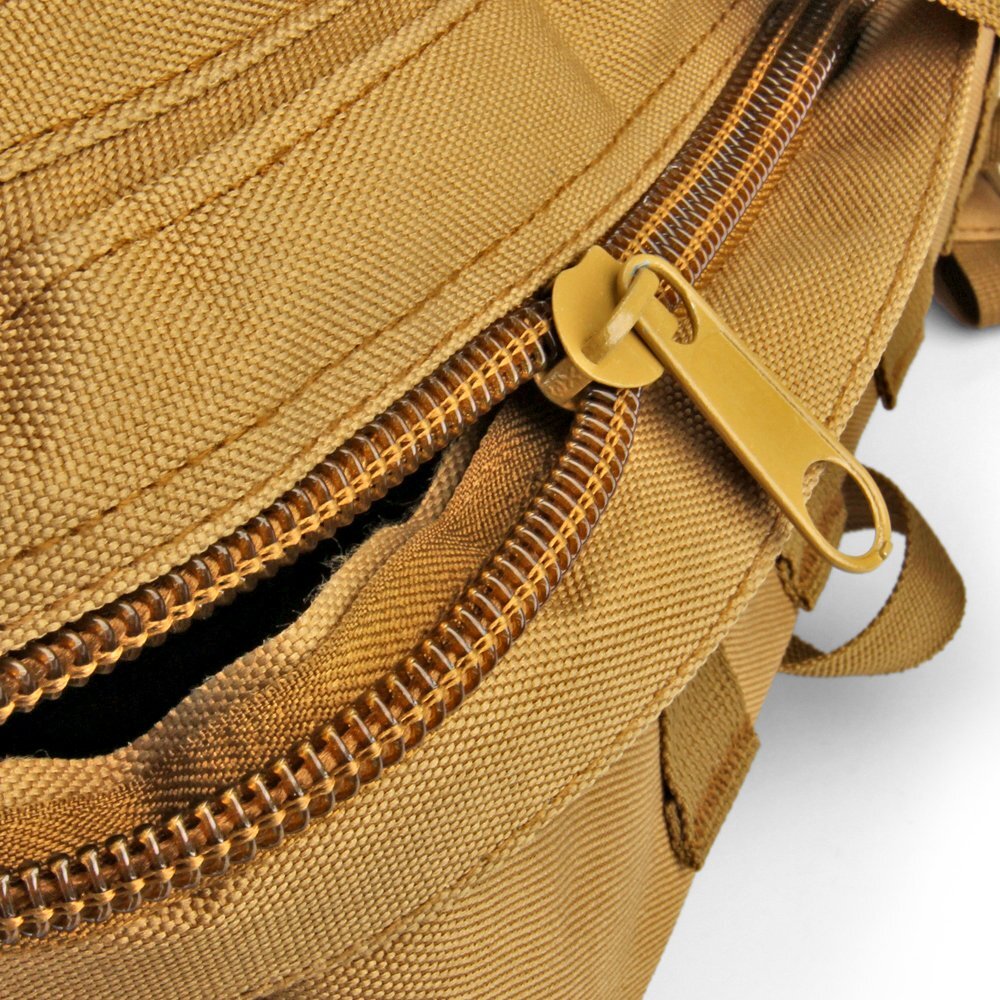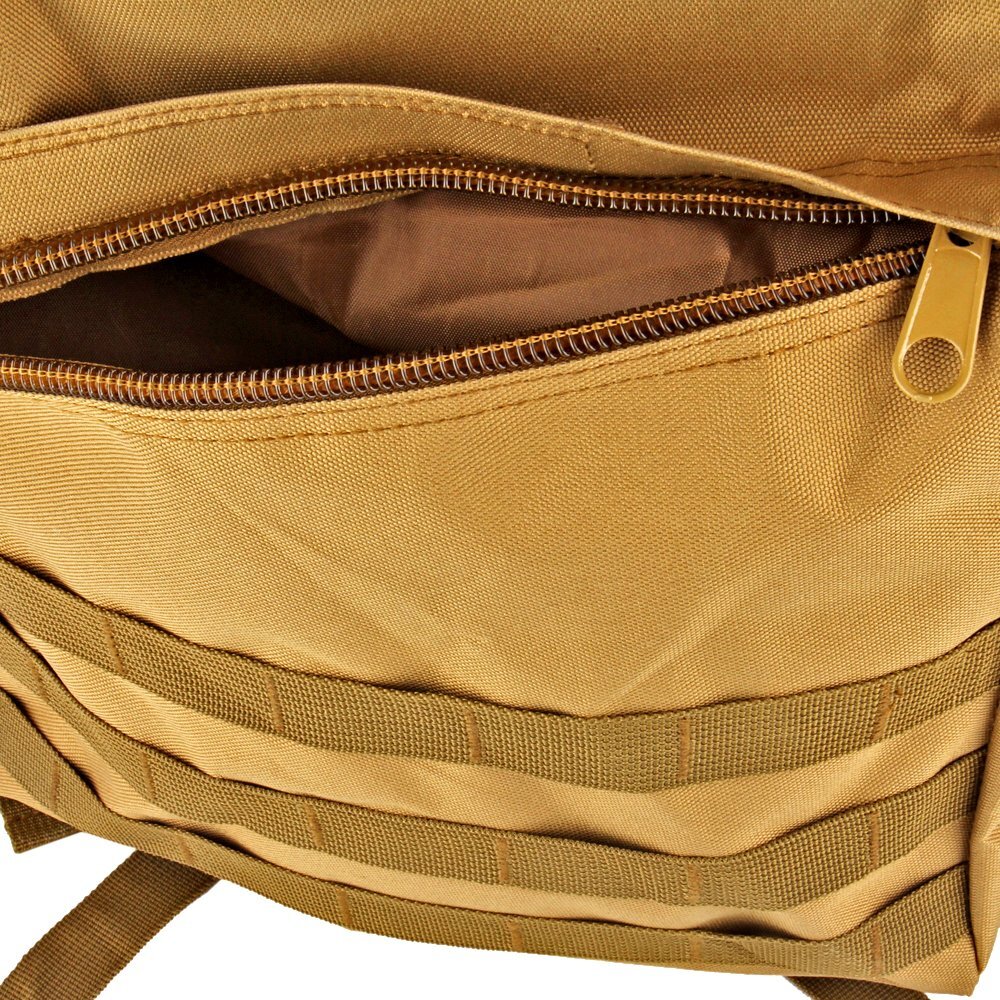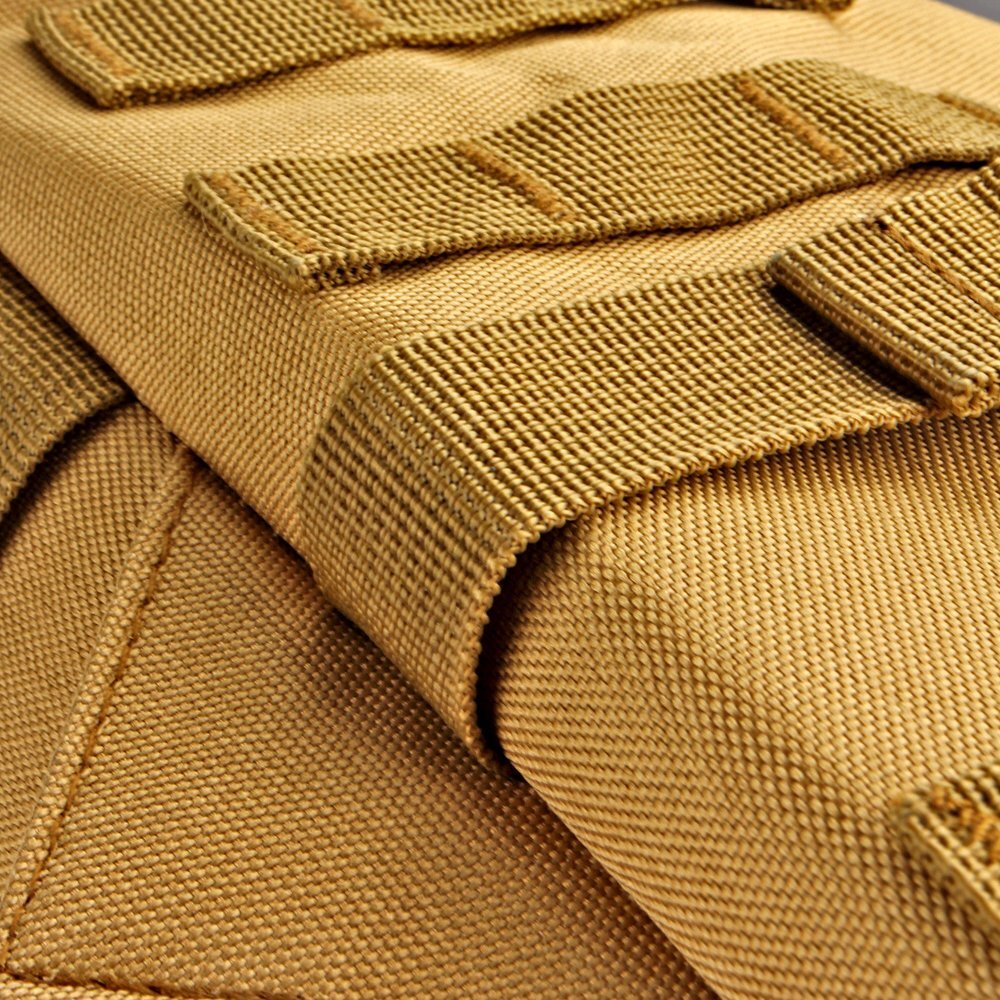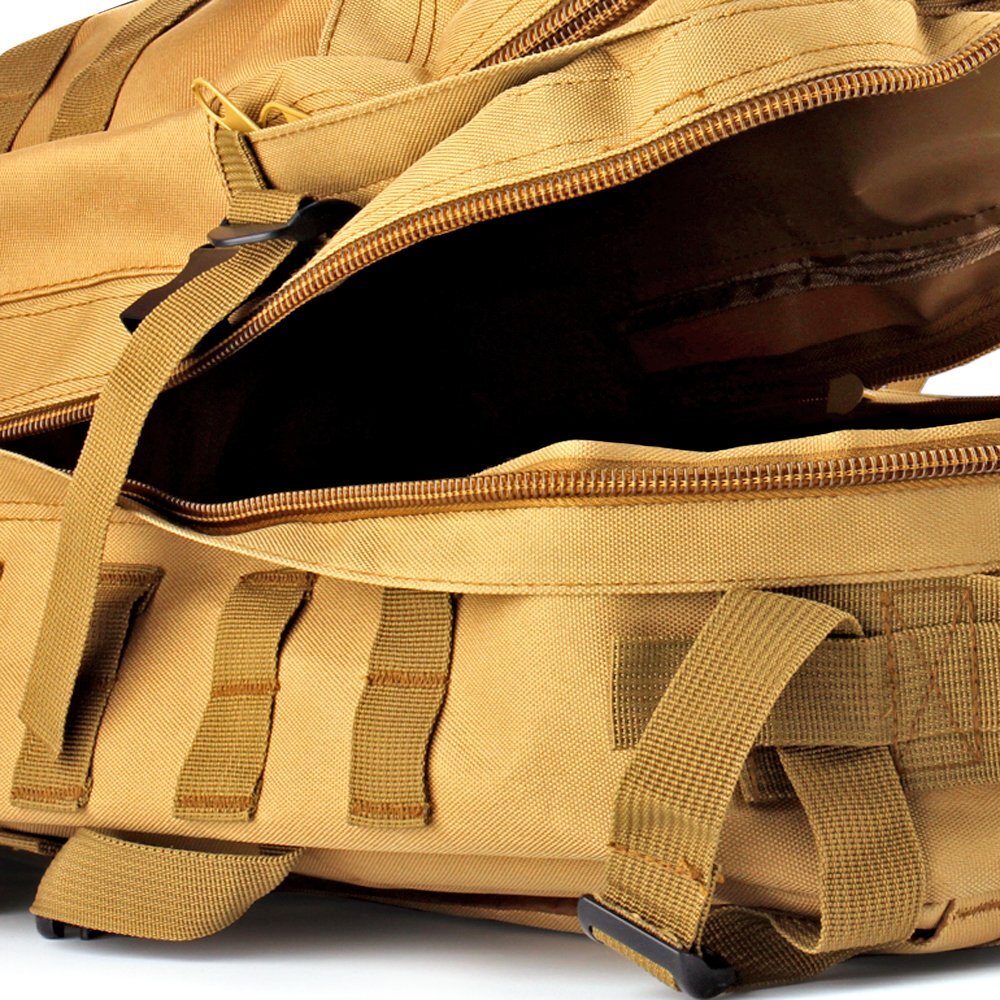 Product: 40L Waterproof Rucksack Tactical Backpack Military Bag
Tag: 40L Waterproof Rucksack, Tactical Military Backpack Daypack, Waterproof Molle Daypack, Tactical Waterpoof Daysack, 40L Military Tactical Backpack
More You May Like:
Military Molle Daypack Tactical Assault Pack Army Molle Bug Out Bag
,
Camouflage Daysack Fashion Backpack For Orthopedic School Children
,
Glamping Tents For Sale
,
Customer Reviews ( 15 )
ByMichelle HarpThursday, 02 May 2019
When ordering new products from new companies online I'm like most people and give it a 50/50 chance and ... When ordering new products from new companies online I'm like most people and give it a 50/50 chance and honestly don't expect much more. With this purchase I was pleasantly surprised. I'm a firm believer in reading reviews before purchasing a product so I always leave honest reviews for anything I purchase. This is an excellent quality tactical bag. It has more than ample storage in the bag without the additional molle strap system. With the MOLLE system you can triple the storage capacity. It has straps that snap on the sides to help support the weight of the bag so that it doesn't put strain on the zippers. The zippers themselves are industrial strength and glide very smoothly and will hold up to constant use. I do believe with the storage capacity the bag could have used more padding on the back to help support the possible weight of it. Bumpers on the bottom would've been another nice addition but not necessary. I received this product at a discount or free in exchange for my honest and unbiased review. I am disclosing this in accordance with the Amazon guidelines, concerning their review system. I am not affiliated with the seller and make no promises of a good evaluation while reviewing the product. I test thoroughly and do my best to present detailed reviews to other customers so they can make an informed decision.
ByYidepot CustomerThursday, 25 April 2019
ByMarie CaccavaleTuesday, 12 March 2019
Love it. I just got back from a camping trip and this backpack really made the difference. First of all, you can literally fit everything you'll need inside AND THEN if you need more room you can start attaching stuff to the outside. The straps were thick so it never felt like that much pressure on my shoulders and they're a little padded so it was a very comfy hike. The design is super practical. Got this at a discount in exchange for my review.
ByAaronThursday, 07 February 2019
ByValarieFriday, 28 September 2018
Great car kit I needed a new backpack for my car emergency kit as our old one was no longer functional. I wanted something that was large without being too big, and with the capability to expand. The MOLLE webbing is a great addition to this backpack. The only things abut this pack I don't like is the some of the MOLLE straps were sewn slightly off-center which makes them functionally useless for certain things. It was only a couple, or I would be taking off more than one star. I also wish there was a bit more padding in the straps, but for the time I've worn them it was comfortable so I won't complain too much. There is a waist belt, but it is not long enough for me to use. I can make myself a longer one since it's ladder-locks and not sewn on, but it's annoying that it looks like it would only fit a very small person. There is a chest clip. It works ok but it would be nice if it could be slid down even more. I like that there are multiple compartments to help keep track of all of my items. It gives space to separate things without having too many. I use the front pocket to hold my solar panel and other things that I need easy access to. I can fit a lot of stuff in here. Multiple changes of clothes, a first aid kit, some food, and other misc items are what I keep in it. It is pretty thick and the material feels pretty sturdy. It seems like it will shed some water, but I do have a rain cover as I don't like to take chances. The zippers are large and easy to open. They glide well and I haven't had problems with them jumping the track or being hard to close. I received this product at a discounted price in exchange for my honest and unbiased review. This does not guarantee a good review, and all opinions expressed are my own. I am critical of products I receive to test just as I am when I purchase at full price.
ByssFriday, 24 August 2018
Ydepot Military Tactical Backpack (ACU) Outdoor Camping Hiking Hunt Trekking Assault Rucksack Travel Molle Daypack Bag Expandable Waterproof 40L Capacity This backpack is very rugged and well made. It is very roomy with two main zippered compartments and one zippered pocket on the front. There are straps on the bottom to attach other gear. The padded shoulders straps are comfortable and there are straps for your waist and sternum that adjust to stabilize the pack very nicely. I love the Molle straps because I can attach items on the outside and don't have to go fishing inside to find things. You can customize this pack for any outdoor excursion because it is so versatile. It is even waterproof so you can carry your laptop, tablet and phone inside. The velcro strips on the front are awesome because you can personalize your pack with patches. I am a person who likes to be prepared when I go on an outing. This pack seems to have a place for everything. It is very sturdy and durable. I would recommend this pack to anyone who is looking for a tactical backpack. I have several backpacks that were more expensive but not nearly as nice as this one. I love the muted color on this one. I did purchase this Tactical Backpack at a discounted price for my honest and unbiased review.
ByLeann S.Monday, 02 July 2018
Great Price on a Great Tactical Backpack!
ByEveticaMonday, 18 June 2018
It's great that they thought about making a Ttactical backpack like this!!!!!!!!! It's great that they thought about making a backpack like this. It's attractive, durable and holds a surprising amount of items without bulking up. The Padded shoulder straps help to ramp up the comfort factor and the hip belt is similar, both combine to comfortably hold the weight snugly against your body. This backpack can be used as a daypack for hiking or travel. It has a design that allows additional pockets to be attached. This pack is plenty big enough to hold anything one would need for a weekend trip, if packed correctly. Disclaimer: I received this product at lower cost I am not obligated in any way to review positively, my opinion has not been influenced in any manner.
ByKMABLRTuesday, 29 May 2018
ByUnclassifiedFriday, 06 April 2018
Nice Military Tactical Backpack (Black)...
ByDeborahFriday, 16 March 2018
Nice backpack! Flexzion Military Tactical Backpack (Black)
ByDreadowlFriday, 19 January 2018
Good material. Straps are comfortable and zippers hold well so far but they are plastic. Still a good bag for the price. Shipped faster than expected.
ByJames William woolenWednesday, 03 January 2018
Good material. Straps are comfortable and zippers hold well ...
ByJoe EutonSunday, 31 December 2017
OOOOORAHHH Backpack is very handy....love it!!
ByDrakon805Friday, 22 December 2017
Kid proof so far I bought this for my daughter for school. She is very rough on her backpacks and so far this has lasted longer than the last 3 we bought her this year.