Tactical Sling Pack Backpack Camo Waterproof Military Daypack
Price:
$23.75 $25.00 piece
Colour

Python Grain Khaki
Black
Khaki
Army Green
Description
HANDY & FUNCTIONAL - Versatile sling pack! Our pack can be used as range bag, tactical shoulder bag, daypack or leisure satchel. The bag measures 35 x 20 x 10 cm and weighs 0.24kg, which is easy carried.
PREMIUM MATERIAL - Our sling pack is made from high-density 1000D fabric, which makes the bag solid and water-repellent.
ORGANIZED - The bag has 1 main compartment, 2 front pockets
ADJUSTABLE STRAP - Equipped with padded and solid shoulder strap, which is comfortable to carry. It can be easily adjusted and will fit you well.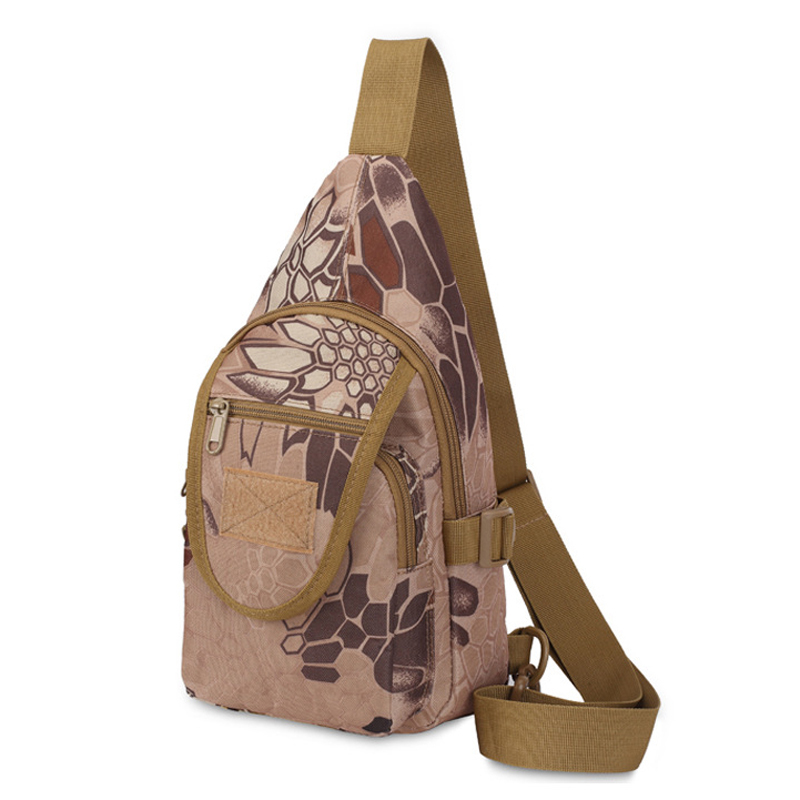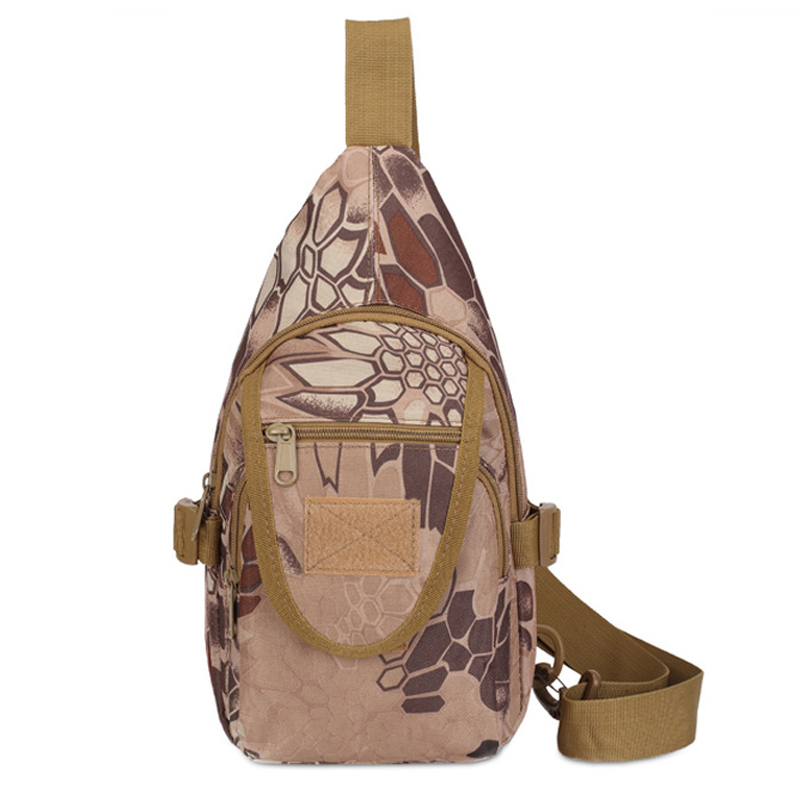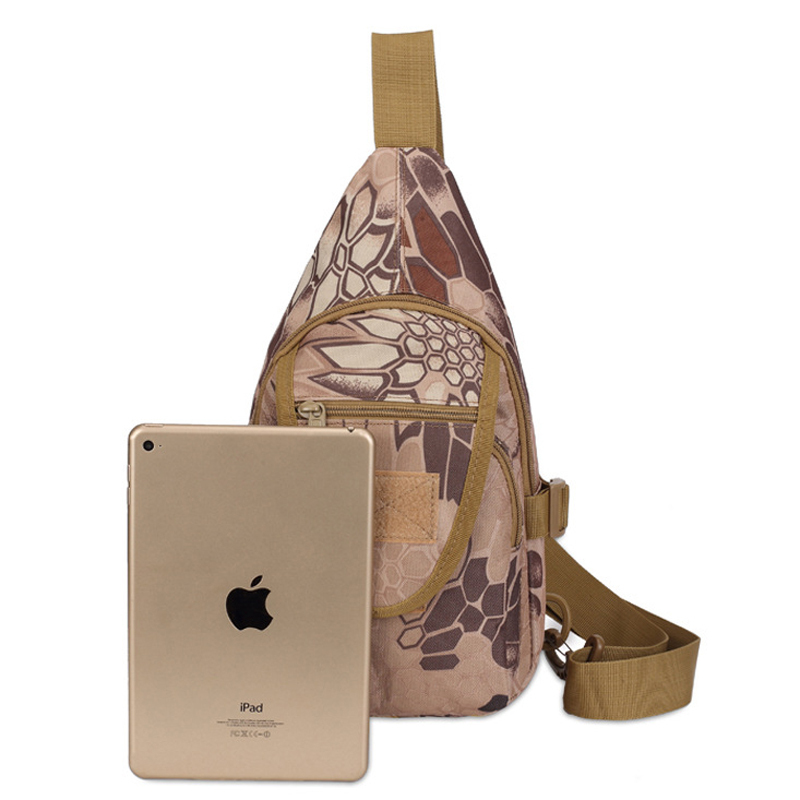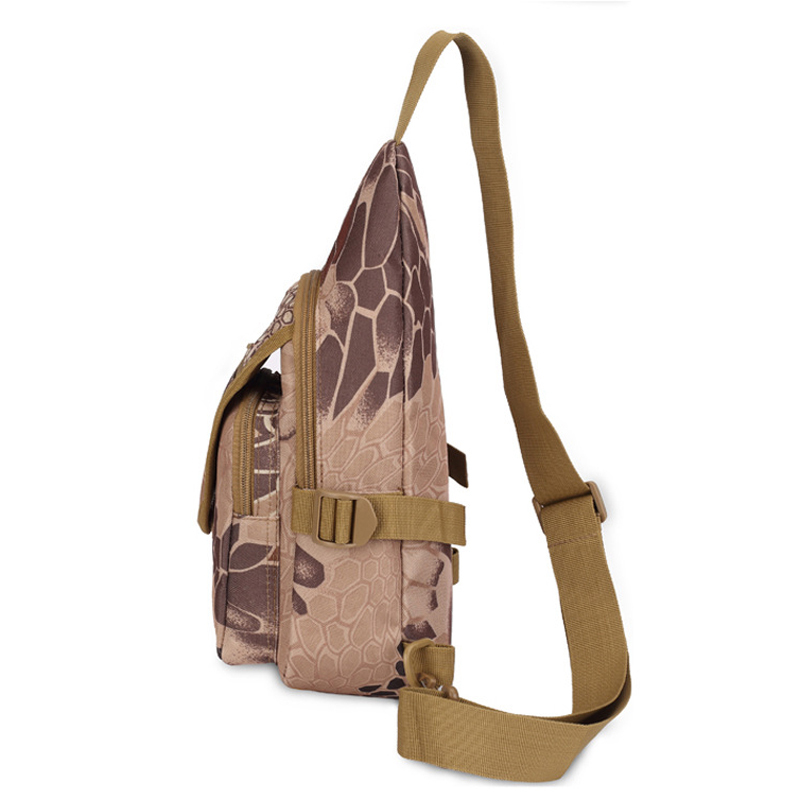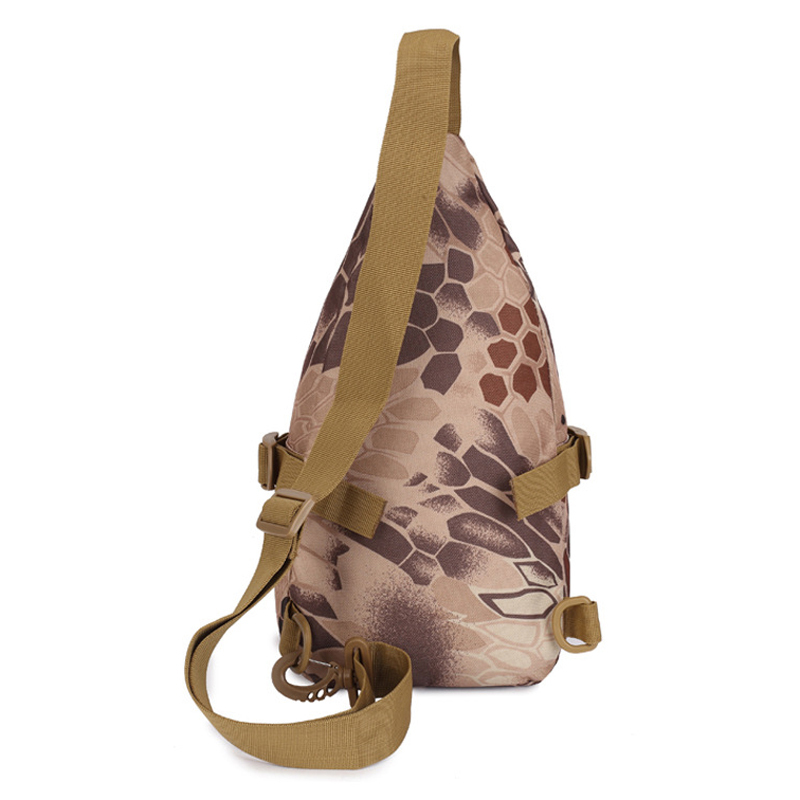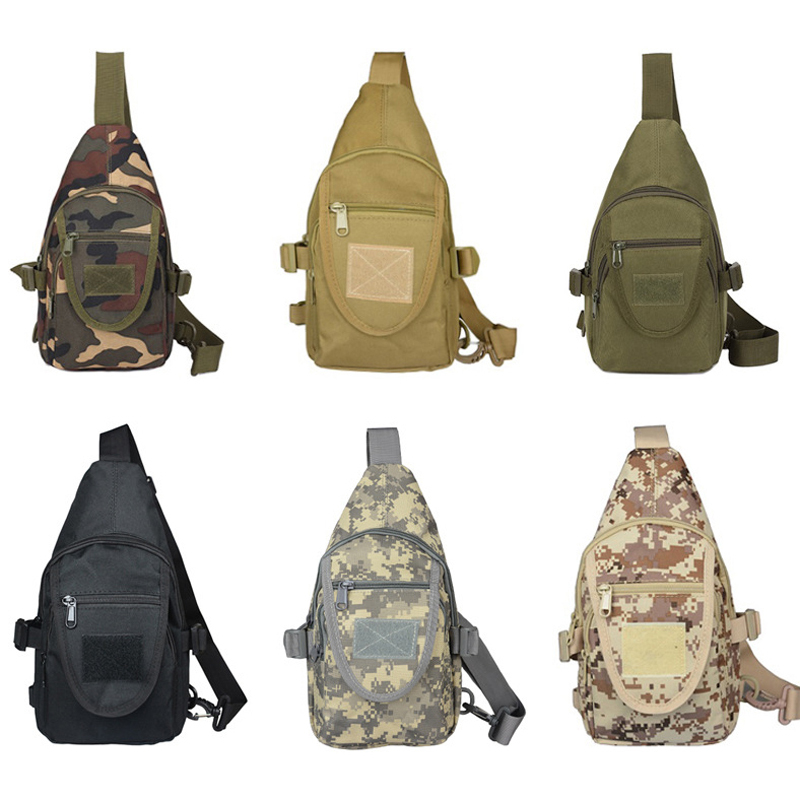 Product: Tactical Sling Pack Backpack Camo Waterproof Military Daypack
Tag: Tactical Sling Pack, Camo Waterproof Daypack, Camo Waterproof Daysack, Daysack Military, Camo Waterproof Daypack
More You May Like:
40L Waterproof Rucksack Tactical Backpack Military Bag
,
Tactical Molle Hydration Pack 900D With 2.5L Leak-Proof Water Bladder
,
Single Strap Tactical Backpack for Carrying iPad & Daily Necessities
,
Customer Reviews ( 20 )
product is well made but pacaging smells when first opened. product looks good and right size for me but packaging smelled when first opened and i had to vent the smell out by leaving the item in the garage for 4 days. after that smell cleared enough to inspect the bag. bag is well made and i like it.
ByNanimalSunday, 02 June 2019
It's a great pack This is a very well made pack it fix's all my supplies for my job and when I go biking it fits well with a few water bolts it was a good choice for my life
ByDana KarlinFriday, 22 March 2019
The bag arrived here in perfect shape and super fast The tactical sling bag arrived here in perfect shape and super fast. This bag is much smaller than it looks in the pictures on amazon. The picture shows it holding a laptop/ipad, but no laptop will fit. It looks to be well made. I think it will be a good fit for what I will use it for. I will report more after use.
Byjmax479Wednesday, 13 March 2019
Awesomeness!! I love this tactical bag! It's versatile, durable and looks really nice. I really like the fact that it can be slung on either side. The strap can also be tucked inside easily and carried with the top handle. Plenty of pockets and durable zippers too. Exactly what I was looking for in a everyday bag.
ByMaxSunday, 03 March 2019
Great little backpack This sling tactical back is great! The only thing i wish it come be change is the size. I was expecting it to use it with my lap top that is 14 in wide. But i kind of saw that coming. It'll be really good for hiking and such things and just carrying the essentials.
ByEricWednesday, 27 February 2019
A great buy! My husband has a similar style tactical bag and his was just way too big and heavy for me, so I was trying to find something slightly smaller and lightweight for myself. This fits everything that I want to carry - keys, wallet, earphones, 8" tablet, phone, handgun, etc. with some room to spare. Great for men and women, but women will definitely appreciate the size and weight of this one.
ByMegan BWednesday, 23 January 2019
I bought this to keep my diabetic supplies in while at work and traveling. One zipper isn't very smooth but still works. The other are great. It is a great small bag that is functional but not very bulky. I wouldn't mind a couple more inches in length on the strap. I am a bigger guy so the strap punches my neck when I wear it behind my back. But still great quality and value for the bag. Maybe add a slip in side pocket or an outside elastic water bottle holder? Even without still a good functional bag. Glad I bought. Was searching for the right kind of bag for this purpose.
Byeric peppasWednesday, 16 January 2019
ByCody G.Saturday, 05 January 2019
Awesome little bag! This is an awesome little backpack! Its very durable and seems to be well put together! The zipper has worked well, and it seems to be very sturdy! I like this sling bag, however it was a tad to small for what I needed it for so I gave it to a friend and she loves it, she says it's perfect for every day carry!
ByLilyWednesday, 02 January 2019
This a great bag. Tough, great zippers with metal pulls and well thought out. The reason I am giving the bag four stars is because there is no shoulder pad on the sling. If it had a sliding comfort pad I would give it six stars.
ByWayne J. ZellWednesday, 12 December 2018
The almost perfect sling bag . I would not hesitate to strongly recommend buy this bag to anyone.
ByMombieTuesday, 04 December 2018
Very awesome EDC! I waited a few days before reviewing so that I could get a feel for it, and so far this thing rocks! I am using it as my EDC so it had to fit in my tiny work locker, which it does...and it also had to hold all my gear, which it also does. Very impressed. The only issue I had was that one zipper pull was missing, but that is just a piece of paracord and easily replaced, so all is well. I will be checking out more items from this seller in the future. :)
ByYidepot CustomerFriday, 30 November 2018
Really like this tactical sling bag! It's good quality and I love that it came with a patch! It is kinda disappointing that the sleeve in the large pocket doesn't have a Velcro strap like in the pictures, but maybe that's just because I bought the bag in black which was less expensive. Overall, I think the bag is great and would recommend anyone to buy it! (but maybe I personally should've got a different color)
ByTamra B.Thursday, 22 November 2018
Great bag for diabetics This is a great bag that I purchased for my 11 year old son who needs to carry medical supplies with him. He is not embarrassed to carry this bag which is a plus. In the main compartment I can fit a flat ice pack and 2 water bottles, plus snacks. The small front compartment fits his medical supplies and there is a nice hidden back pocket for a phone.
ByRon ZychowskiWednesday, 31 October 2018
Holds more than one would think! You always wonder if you bought the right thing in the right size. Used it everyday while visiting Paris and London. Comfortable to wear and held everything I needed. In the main compartment, carried my Sony A6000 camera with 55-210 zoom lens mounted on the camera and had room to spare. Also carried large iPhone, wallet, cigarettes, and lighter. Bottom-line it did what I needed it to do. The only reason I did not give it 5 stars is that the snaps that you used when you have the bag in carry mode did not work.
ByStephenWednesday, 24 October 2018
Small, strong, spacious EDC I actually bought this because I intend to get a motorcycle soon and wanted something that could cinch down tightly onto my torso. While I already had a bag that would fill that role, I carry a laptop with me just about everywhere I go, so the larger bag with larger laptop would hust be unwieldy. Fortunately I also own a GPD Pocket, a 7" full keyboard laptop, with a little leather case. These fit beyond perfectly in the main pouches in the dragon ninja sling. Toss in a few EDC things like chargers, a usb mouse, flashlight, lighter etc, perfect small edc bag.
ByJadeeWednesday, 12 September 2018
I wasn't sure if I would go with a single shoulder or dual shoulder EDC bag when I decided that I wanted something with at least a few MOLLE attachement points to have some customization options. I went with the single shoulder Yidepot bag. Right away I totally dug the logo and the size. You can put an iPad in this! A full size one! Although a mini would be a much better fit. I carry a 3DS XL and a few other small electronics in the main compartment and a bunch of small stuff in the smaller front compartment. The zippers are super rugged and the material is a medium weight nylon with an integrated moisture barrier layer. These bags are super cool and the company truly stands behind their product!
ByPoppabearWednesday, 08 August 2018
I'm a 64 year old man who likes to be prepared for anything. My EDC has evolved over time to the point that my pockets will not hold everything. For years I have used fanny packs of one sort or another but always found that they get in my way no matter, how I wore them. IE: around my waist in the front, side or rear. I have even clipped the waist strap together and slung them over my shoulder. None of those methods were satisfactory, I even tried backpacks but with them the problem was that I tended to carry more than needed to the point where weight became a problem. I recently saw a guy with a small sling bag and the bright light went on in my head. I have a sling pack for my DLSR camera which works well for me when using it. Thus I started an online search for a sling bag, most of what I found was too cutesy for my tastes. I wanted something to carry my daily needs that was not to big but most importantly be comfortable to carry. This bag is exactly what I was searching for it has just the right amount of pockets and carrying capacity for me.
ByChiron 24Wednesday, 01 August 2018
Perfect for what I am looking for as an adjunct to my world travels. They are getting tough these days on baggage and world travel. I travel with a guitar that I am now going to try to bring on the plane. And I am going to try the next leg with a small carry-on bag to escape the fees that have been banging me pretty hard for checked guitars and baggage. So the mini bag, which is tough and well designed, is perfect for my camera and large lens, passport wallet, iPad, phone and a few other odds and ends. It will be its maiden voyage in a week and if I need a molle bag or two I can add them. I checked on the prices of them on amazon and they are almost the same prize as this Dragon bag. So,to end this review, the bag is a steal! I have heard others say its a bit small. Check the measurements before buying, its absolutely what I needed for my journeys!
ByKimberly PharrisWednesday, 11 July 2018
The sling is easily fitted and comfortable Whoever designed this bag was really thinking! When class is in session, this will be my carry-all bag to replace an awkward purse. The sling makes it sit close to the body and offers security for personal belongings. The sling is easily fitted and comfortable. There are multiple pockets and pouches both interior and exterior for anything one could need to carry. My second TacSling (and I will definitely be ordering several more!) will serve as my EDC. There is plenty of room for whatever equalizer one chooses, with pockets and pouches for equalizer food, targets, and the like. It is Molle compatible, which is a very attractive option for adding first-aid and other kits. The black material and Dragon Ninja logo make for an understated look. Sharp, but not so flashy as to garner unwanted attention. All in all, a solid bag that will be a great addition to my collection. A video review will follow when I can carve out some time! lol